War Tactics Section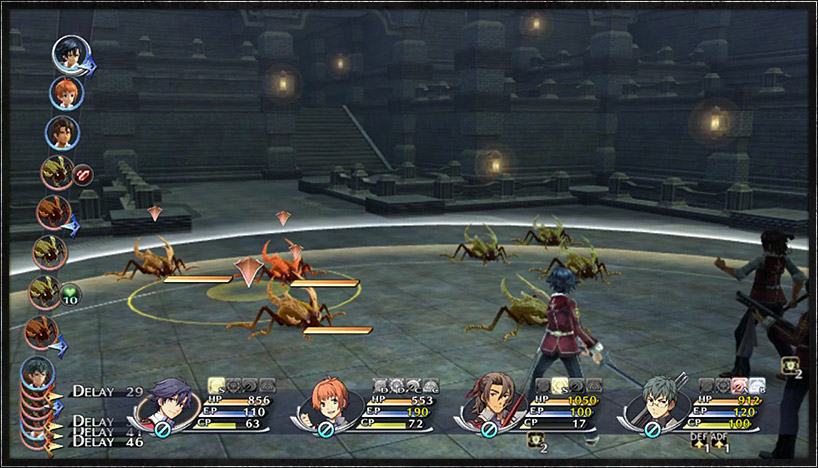 Active Time Bar System
Trails of Cold Steel features turn-based combat coupled with an Active Time Bar system. Displayed in the upper left-hand corner during battle, the "AT Bar" will show the turn order for both enemies and allies alike. Move anywhere on the field, disturb the turn order with arts that bolster or lower speed, use crafts to delay an enemy's turn, and take advantage of the various status effects shown along the AT Bar that may help or hinder you in battle!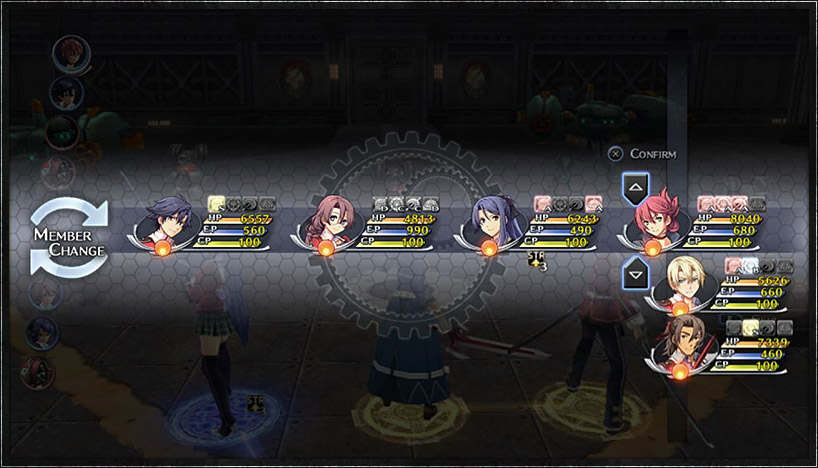 While only four characters can participate in battle at a time, it's simple enough to switch out one character for another in reserve—and it doesn't cost your turn, either.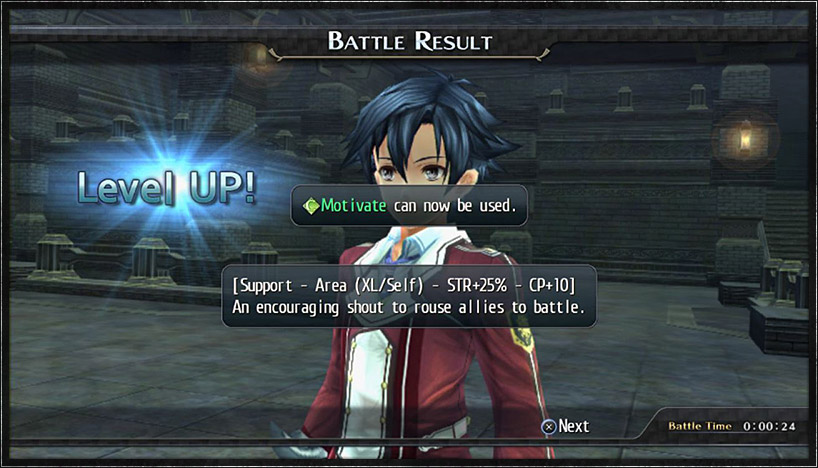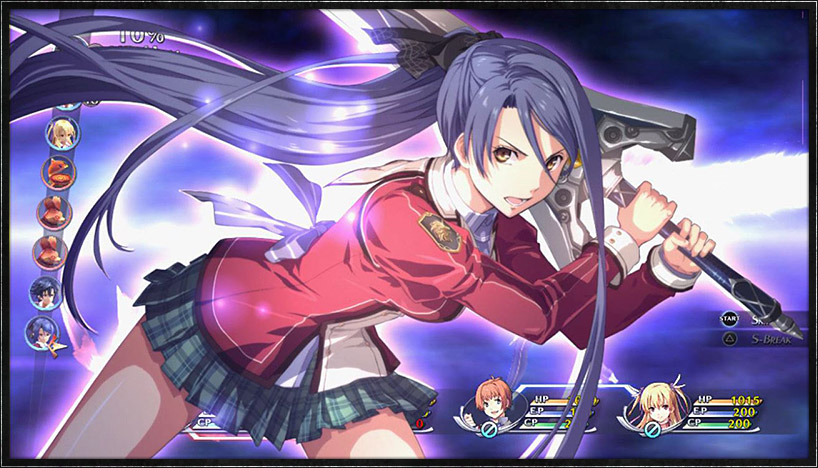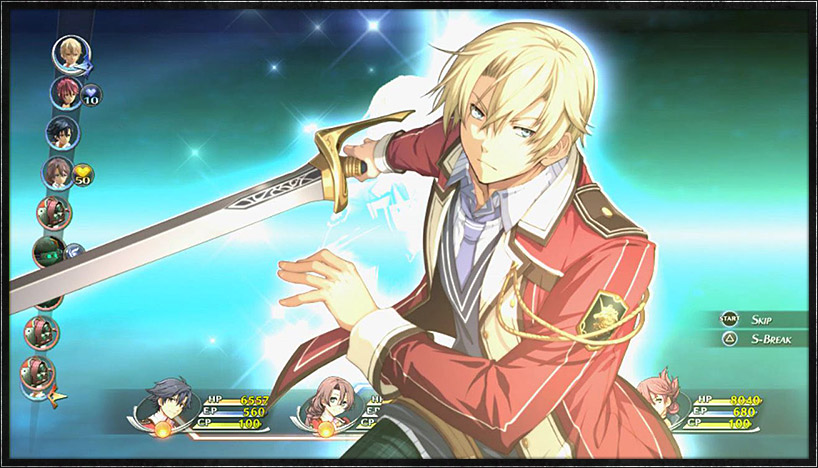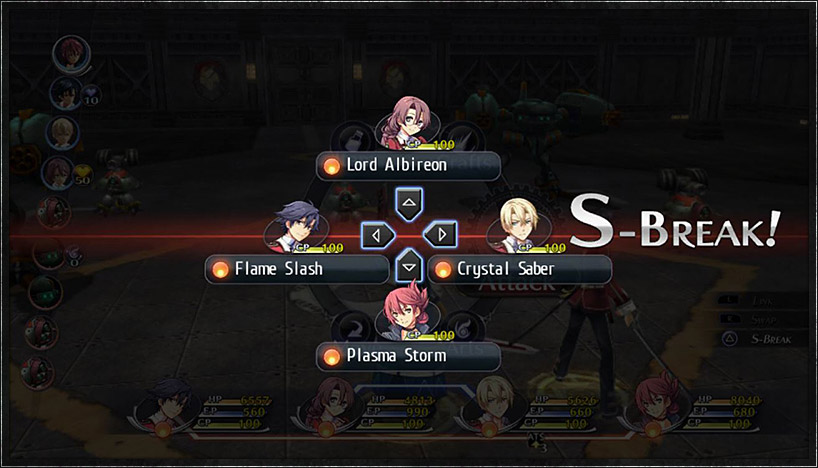 Arts & Crafts
Members of Class VII can take advantage of dozens of attack, defense, and healing spells – known as "arts" – or execute advanced combat skills known as "crafts" that are unique to each character. Characters will gain new crafts by leveling up, and throughout the story, they'll each learn an "S-Craft" – a special ultimate attack that, when ready, can be triggered at any time, even disregarding the current turn order. Players can chain as many as four S-Crafts at a time, so use these powerful skills to dominate enemies before they have a chance to strike!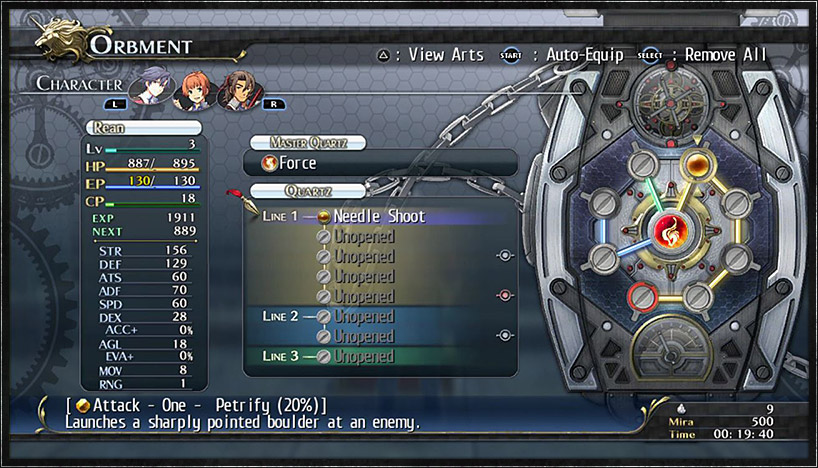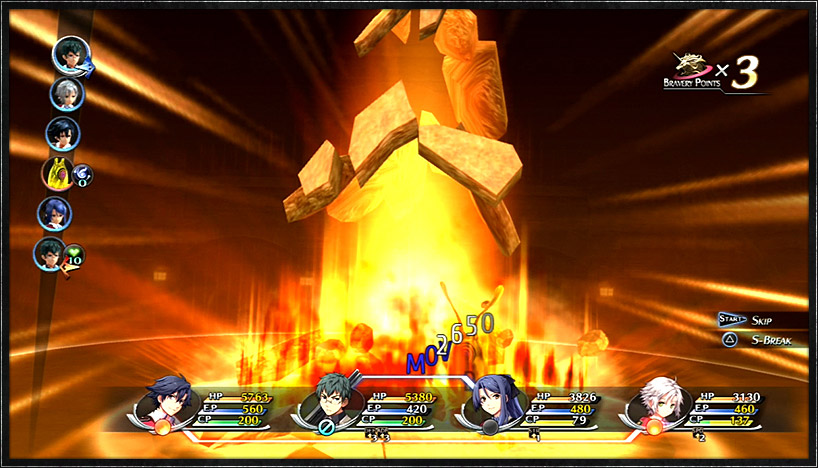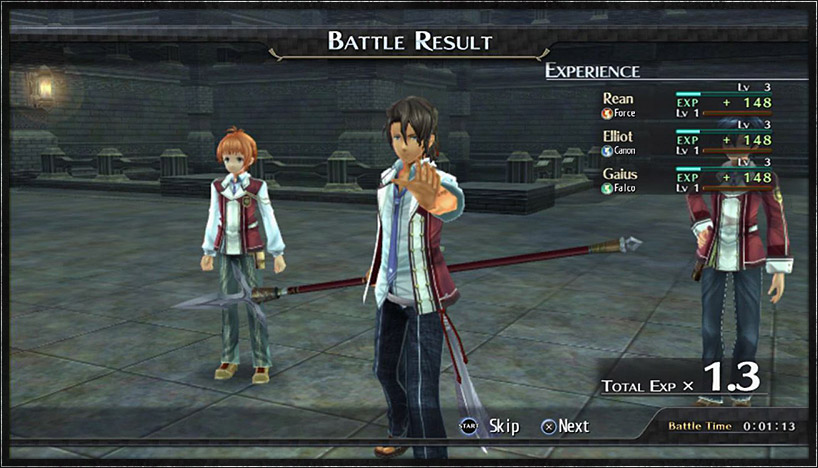 Orbment System
The classic Orbment system from the Trails series returns in a new, streamlined form! Members of Class VII all receive ARCUS units, cell phone-like devices which allow players to equip magical orbs known as "quartz." Simply purchase, find, or earn new quartz through quests, equip them to your ARCUS, and you'll be privy to dozens of arts for use in battle.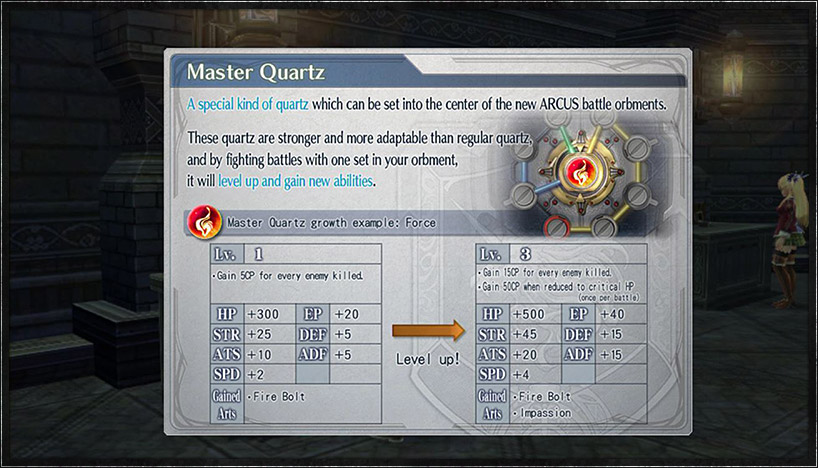 Every member of Class VII will also be able to equip a single "master quartz," quartz which gains experience and levels up with the player. Each master quartz comes with its own arts and status boosters ranging from extra speed to being able to instantly recover from K.O. once during battle, and they unlock even more benefits as they level up. Be sure to mix and match master quartz as you find them in order to discover each one's hidden potential!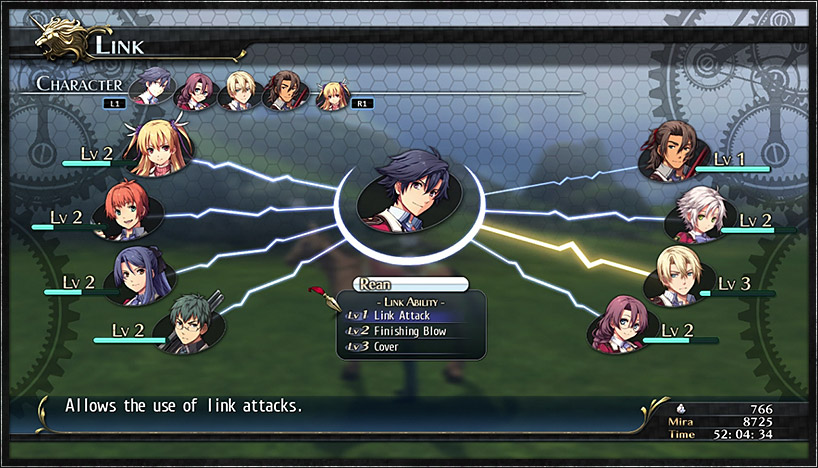 Combat Link System
The ARCUS units aren't just for equipping quartz—players can also initiate "combat links," a system where two characters are directly connected during battle. Every character has the potential to level up a unique combat link with every other party member, and said links can earn follow-up attacks, special status effect boosts, healing when you might need it most, and more.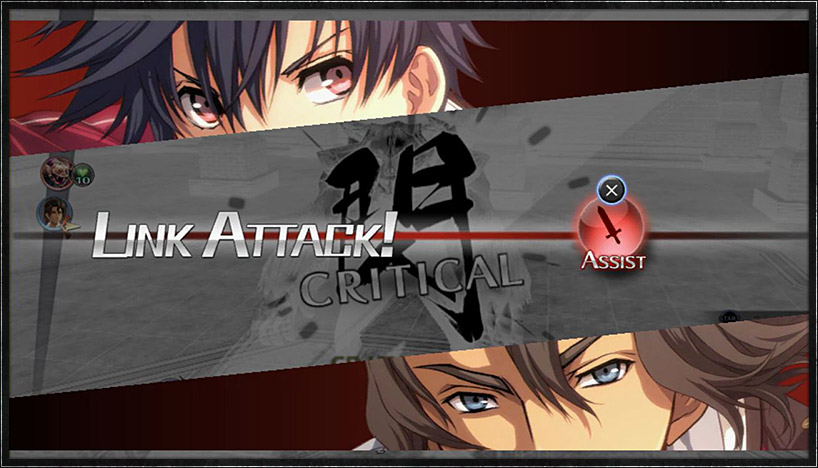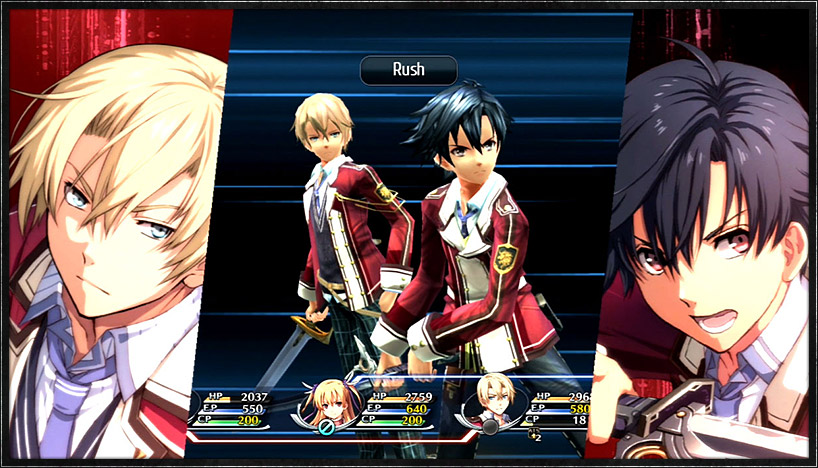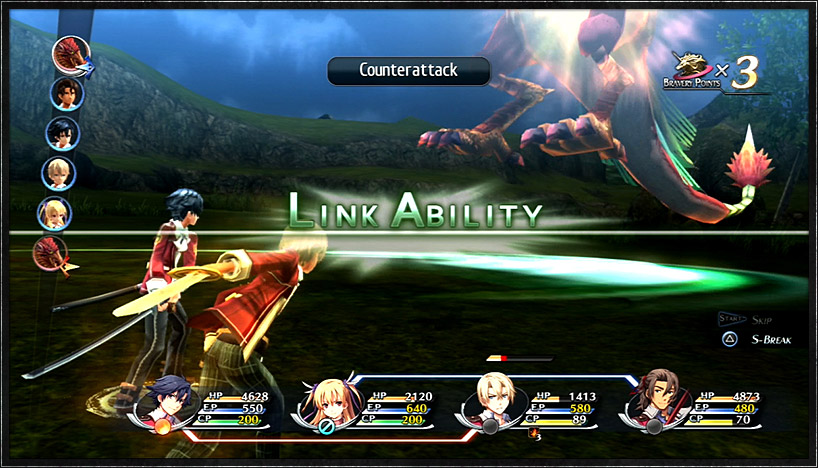 Eventually, a successful link attack will earn one Bravery Point. Earn enough Bravery Points and you'll be able to perform a Link Rush with a single partner, or even a Link Burst with your entire party!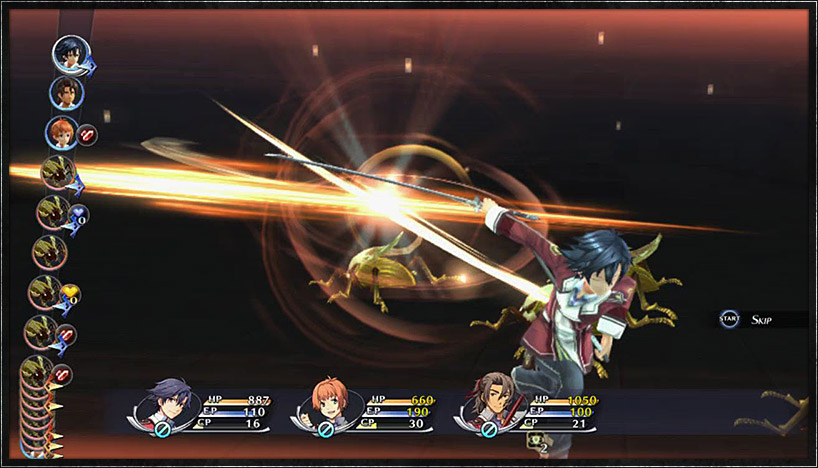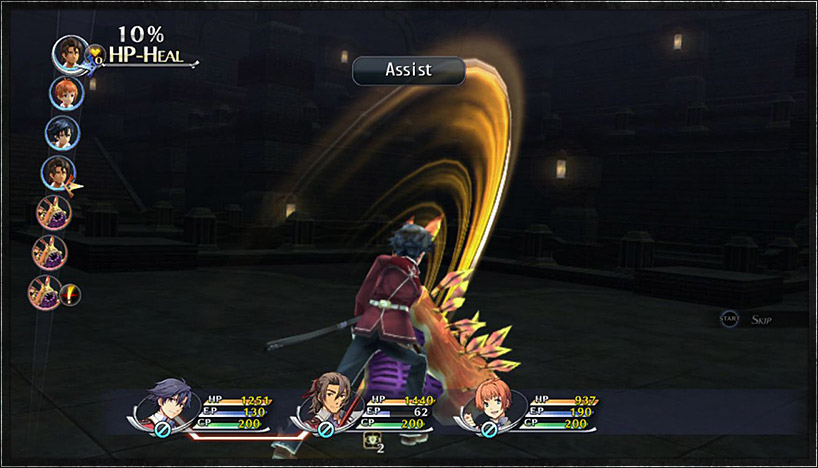 Slash, Pierce, Thrust, and Strike
The varied weapons wielded in battle by Class VII have affinities for dealing certain types of damage – Slashing, Piercing, Thrusting, and Striking. Enemies may have a weakness to one particular type of damage, and having the right character deliver a physical attack raises the chance of that enemy becoming "unbalanced," which opens them up to a free follow-up attack from their combat link partner.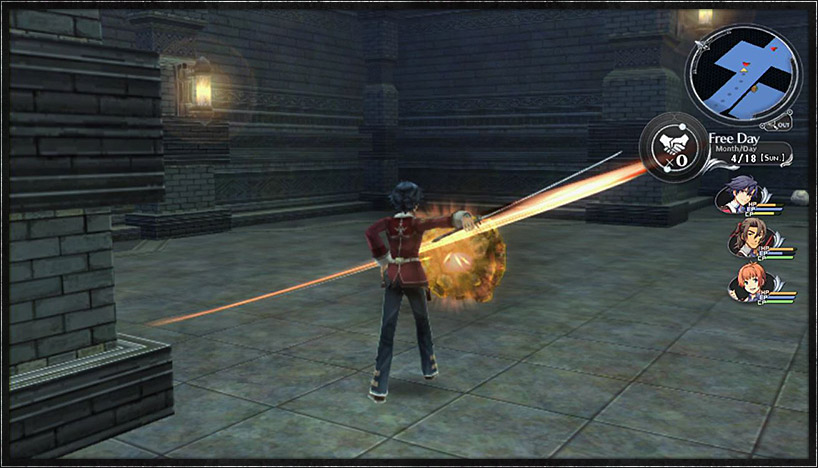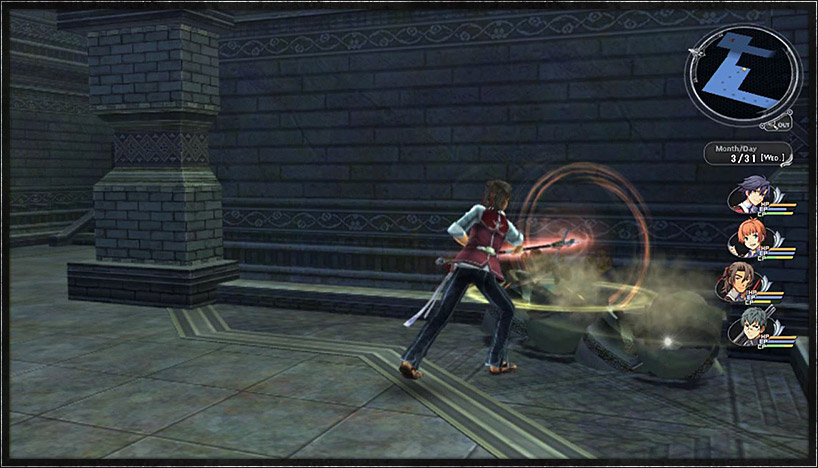 These affinities not only have their uses in battle, but on the field map as well! You can get the jump on enemies by attacking them with your weapon to stun them before entering battle, earning you a preemptive strike during battle, or you can destroy the key parts of the environment in order to move forward on the map.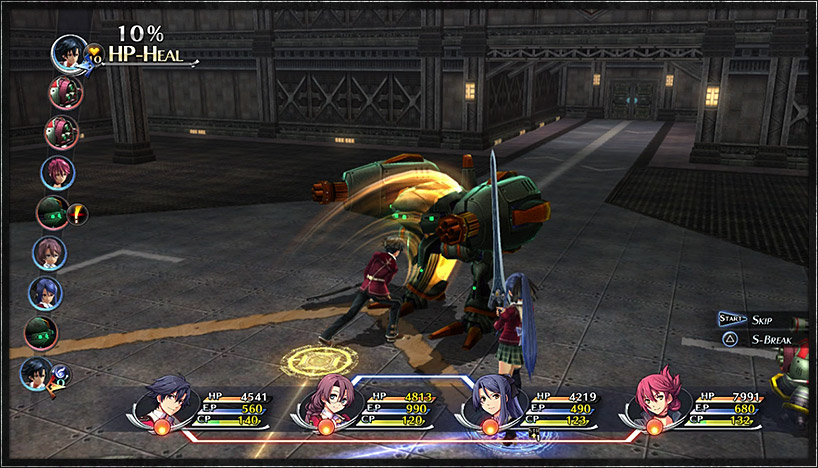 Slash
Represents cutting and chopping attacks that cleave enemies with a weapon's sharp edge. Most effective against soft-bodied and plant-type monsters.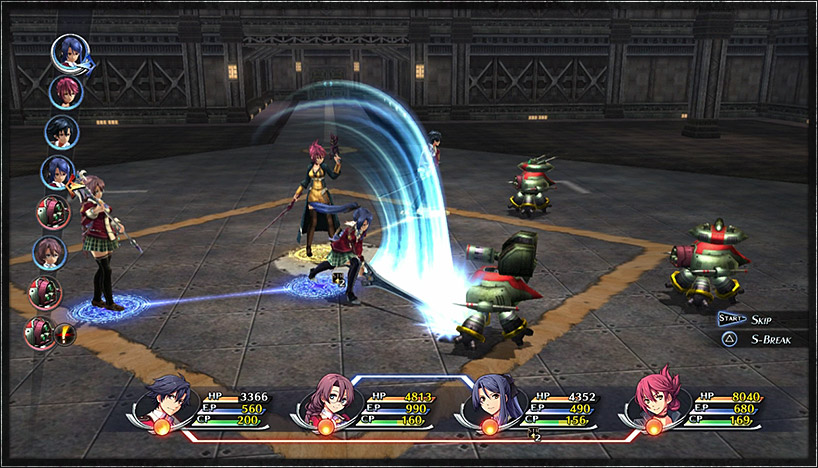 Thrust
Represents targeted thrusts that zero in on large enemies' weakest points. Most effective against fish-type and large monsters.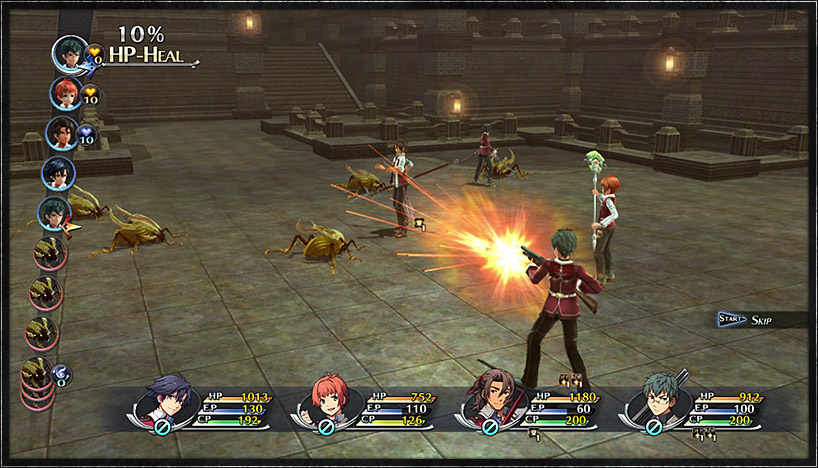 Pierce
Represents swift attacks dealt by ranged weapons like bows and guns, allowing the attacker to hit even fast targets. Most effective against insect and flying enemies, as well as heavily armored monsters with a visible weak point.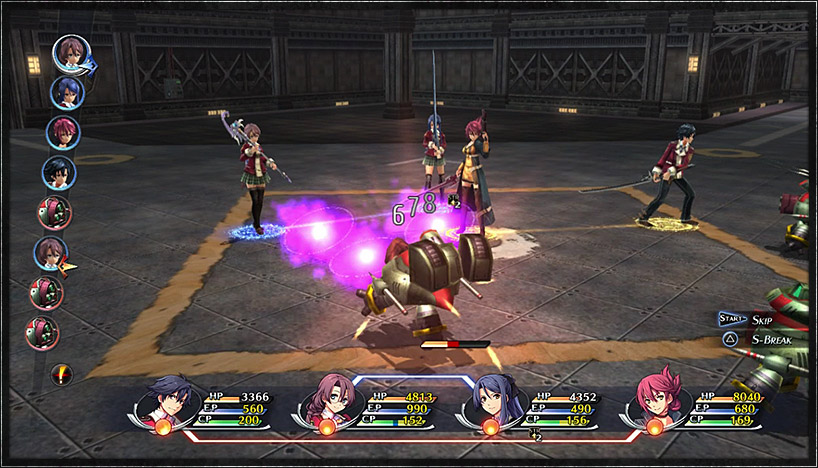 Strike
Represents powerful attacks with blunt weapons that batter and bludgeon enemies. Most effective against large monsters and insects with shells.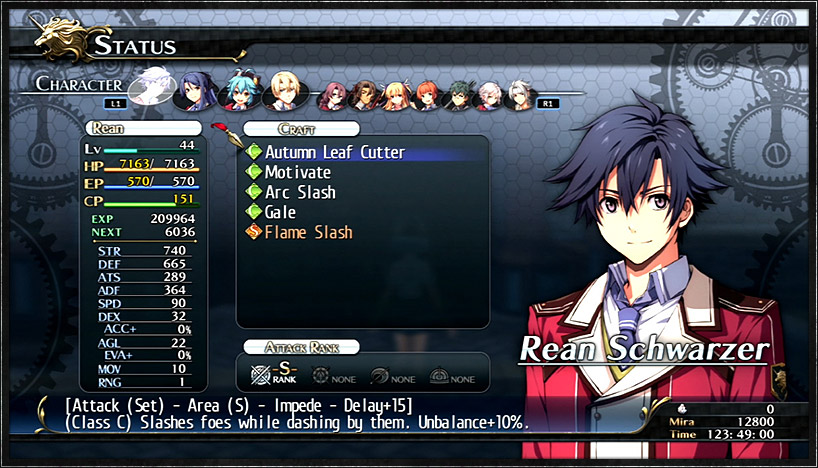 Rean
The curved blade of Rean's tachi allows him to excel at slash-type damage, making him particularly skilled at unbalancing enemies weak to it.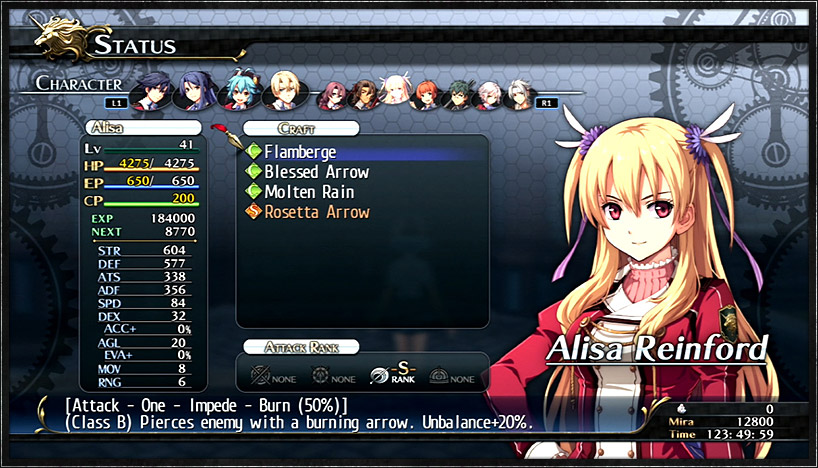 Alisa
Alisa's orbal bow makes her a master of pierce-type damage, and particularly skilled at unbalancing enemies weak to it.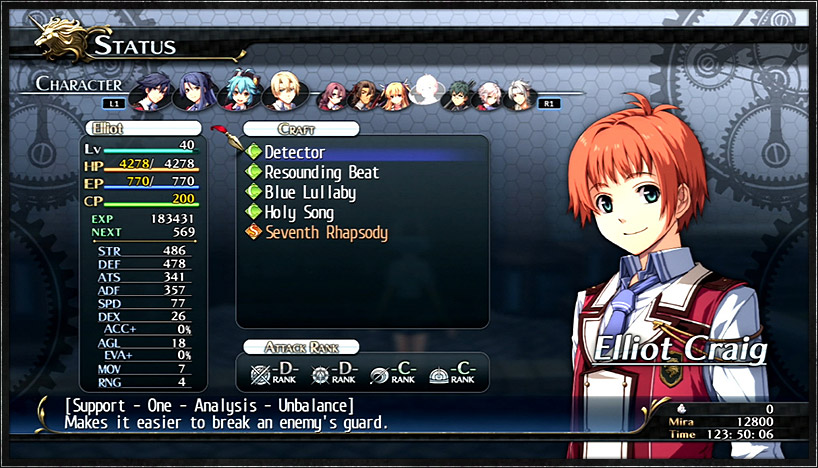 Elliot
Attacks from Elliot's orbal staff encompass all four types of damage, but aren't particularly specialized in any of them, making him much less likely to unbalance enemies than characters who are more specialized in one or two types.
Laura
With her imposing greatsword, Laura excels at both slash and strike-type damage, making her very useful for initiating link attacks.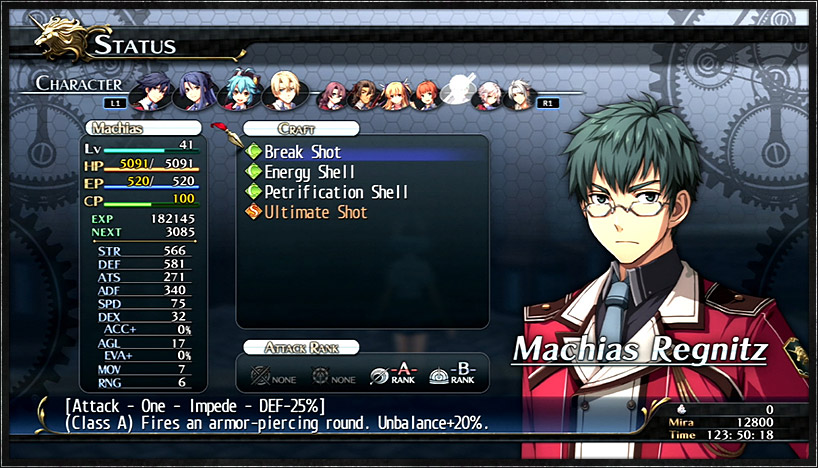 Machias
The blasts from Machias' orbal shotgun allow him to deal strike-type damage, in addition to its pierce damage.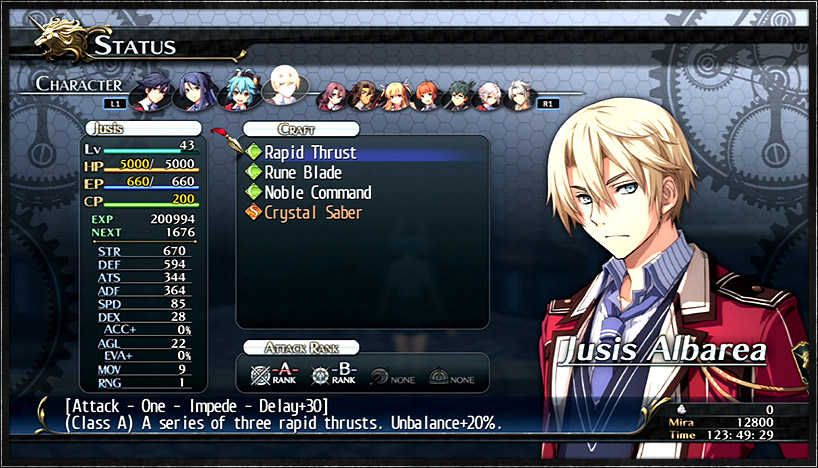 Jusis
Jusis' rapid attacks with his sword are strong at delivering both slash and thrust-type damage.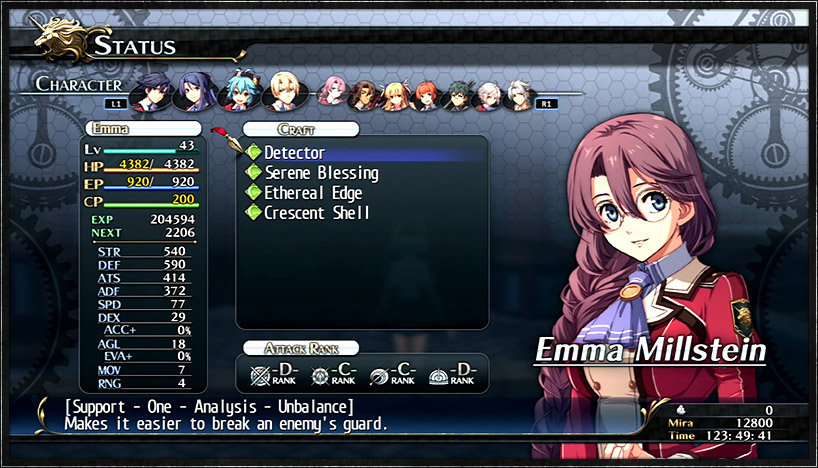 Emma
Emma's attacks deal damage of all four types, much like Elliot's, but the parameters of her orbal staff differ slightly, influencing which damage types are more strongly represented.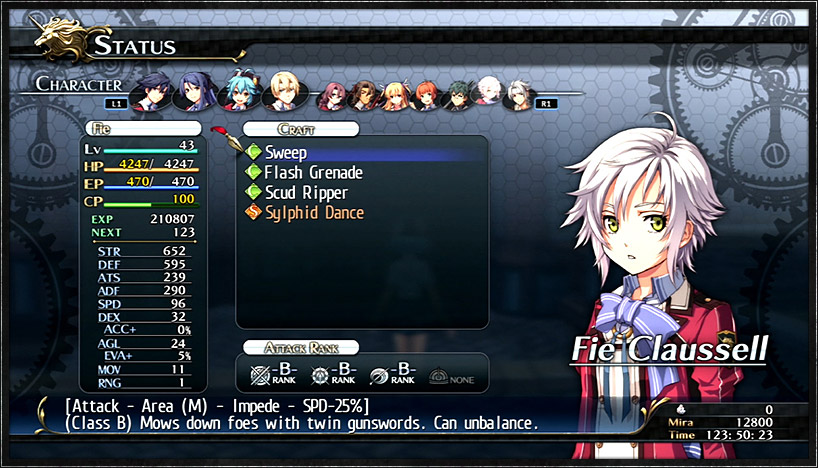 Fie
Fie keeps up a rapid pace in battle with her twin gunswords, which give her the versatility to deal slash, thrust, and pierce damage.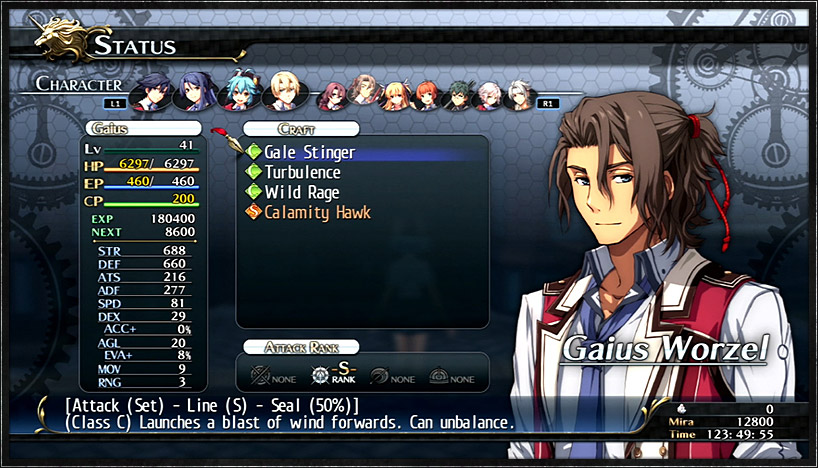 Gaius
Gaius' spear makes him unmatched when it comes to thrust-type damage, and particularly skilled at unbalancing enemies weak to it.